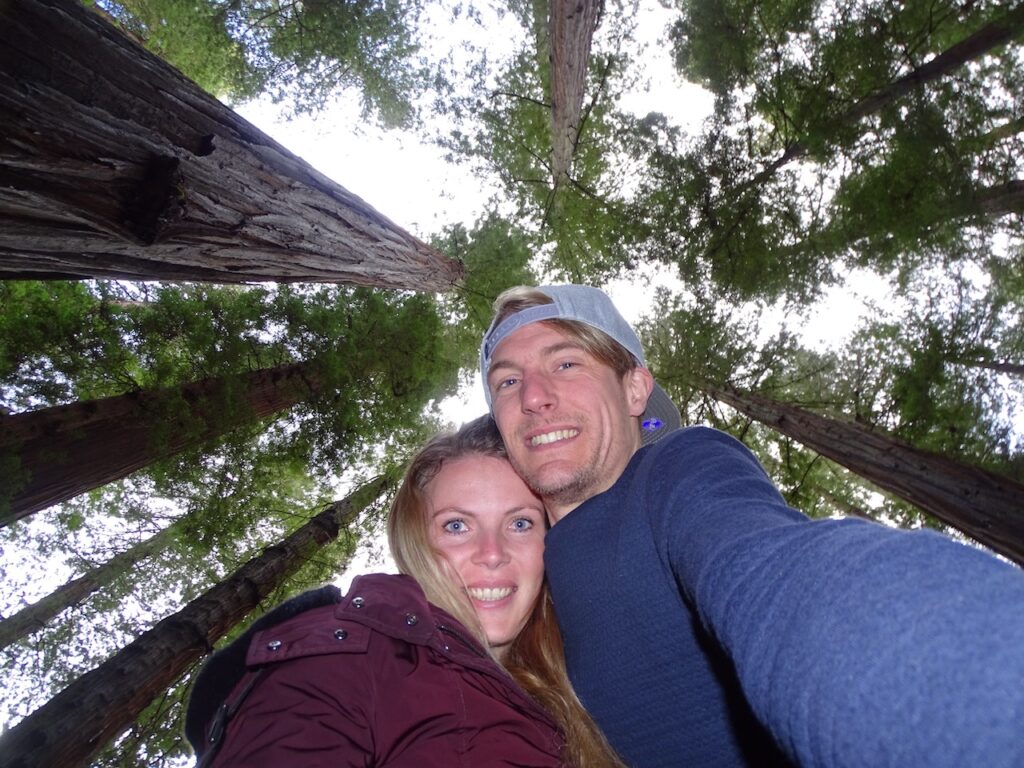 What a difference a day makes, 24 little hours after we woke up in a Winter Wonderland we have breakfast outside in the sun. All that remains of yesterday continuos rain is the mist of evaporating water over the grass. We enjoy more flipping bitches (wentelteefjes/French toast) without setting of the smoke detector simply by temporarily relocating it and sufficient ventilation. As we true campers we do the dishes outside and do all household activities such as a sewer dump and refill the fresh water. So with all tanks correctly filled or emptied we set out for new adventures. As we both were charmed by the old town of Eureka we decide to go back. With the sun out I decide to wear shorts to complete the holiday feeling.
We revisit the Eureka Bookstore where I buy an overpriced journal and have coffee and sweets at Ramones. After some more window shopping we load up supplies at the organic supermarket and with the sun on our faces we drive further South on the 101.
We take on the advice of Bob and drive 50 miles South to the Avenue of the Giants. The Avenue of the Giants is a 32 miles long road that winds through Humboldt Redwoods State Park. On either side of the road there are Sequoia trees, Sequoia trees are taller than any other living thing and can make any creature feel humble. They can live over 2000 years and withstand fires, floods and insects. As soon as we enter the Avenue we become overwhelmed by the sight of these true giants. We make regular stops and oohs and ahh become almost continuous and simultaneous woows.
As we reach on of the famous "drive through trees" we find it has become a tourist-trap and through which our motorhome wouldn't fit. We do a quick walk around without any wows, ohs or ahs before we move on. At Giant Redwoods campsite we are greeted by a elder couple with a sense of humour and learn that down the road there is another – non commercialised – drive through tree. Although it too isn't drive though enough for our camper we will do a drive by tomorrow. Our campsite is right next to the Eel River and we take a short hike along the river bank before we settle in for the night.