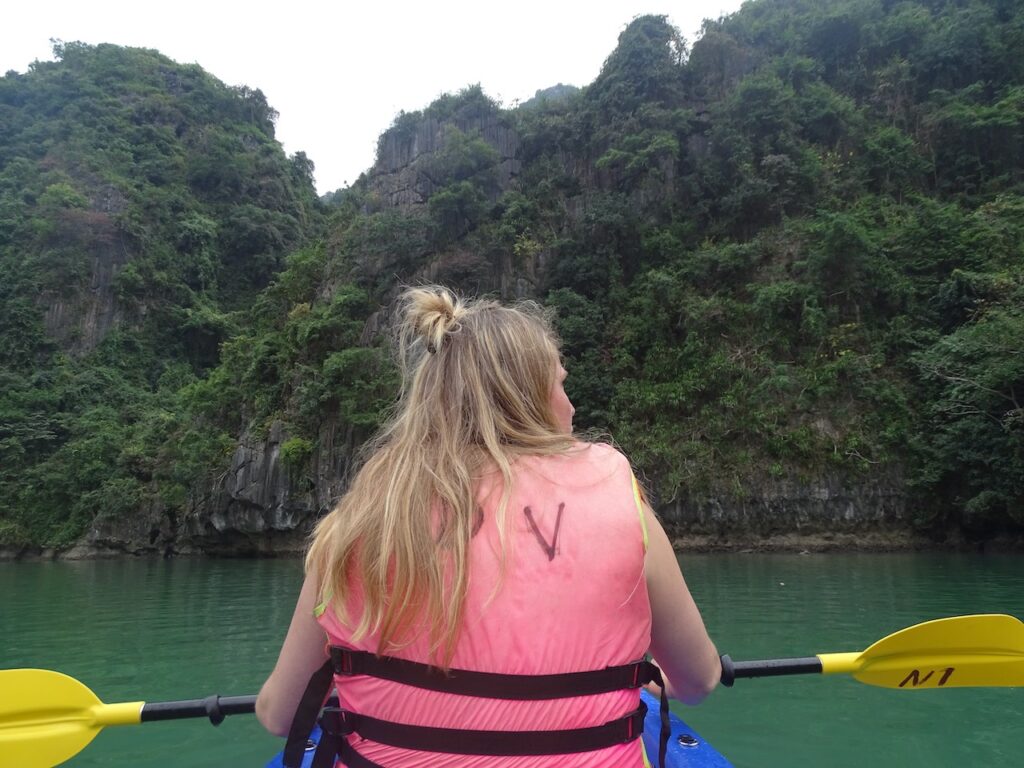 Compared to the peace and quiet in Paradise we are now back at Hanoi and our hotel room is next to the elevator, the neighbors have a fight and a streetcat is rather loud and when the alarm goes of at 06:20 I jump up ready to get to work and after five minutes in the shower I realize where we are and why we had to get up early. After a decent breakfast our guide is waiting for us and takes us to the bus, as we walk out of the street I see a similar van as the one the that took us to Topas. As we approach the van drives away and we see our transport for the day. A somewhat less comfortable Hyunday bus.
Nevertheless we settle ourselves in the back of the bus for the 4 hour drive to Ha Long Bay city. We chat with some of our travel companions, sleep, read and take in the surroundings. When we arrive at the harbour we are confronted with a tourism mega factory with busses and boats everywhere. We are happy to have chosen Vega travel as we don't end up on one of the mega cruises. With a groups of only thirteen we embark on the Minh Hai for our two day trip. As we leave the harbour we notice a large fleet of similar ships setting of in a different direction, mass tourism our guide tells us. We set of to a different bay, not Ha Long Bay. My reply of Ha Short Bay to what the other bay is named is not appreciated.
Our tour guide is part stand up comedian and gives a nice twist to all the background info and takes his time to teach us all some Vietnamese. We also learn that the good man had paid 2 Buffaloes, 3 pigs, 20 chickens, 20 kilo of corn, 35 kilo of rice and 2000 dollar to the family of his now wife as a sign of gratitude. As we sail between the many impressive rock formations that make up Ha Long Bay which is Vietnamese for Mother Dragon bay our guide teaches us more Vietnamese history.
After we drop anchor in a bay and enjoy a tasty lunch we get on the tender to go kayaking in a cave. Marlies is more than excited as she has wanted to go kayaking together ever since we met (more or less), we couldn't have gone on our maiden kayak voyage in a better place. If you ignored the boats full of loud singing Chinese the lake within a mountain was another of mother natures wonders that we took in in amazement. The kayaking was followed by a visit to the "surprise cave", our expectations were moderate as we had seen our share of caves around the world. After a few minutes we figured this cave was not going to exceed our expectations a few minutes later we stood in the center of nothing we had seen before and had to admit that the name did the cave right.
Back at the boat we both felt exhausted and a quick nap couldn't get us much excited about the upcoming cooking class. Again our guide didn't disappoint us and it didn't take long before we where rolling winter rolls on the tunes of the Lambada. Fortunately we don't have to rely solely on our own rolling skills for dinner as we are also treated to another 8 courses of Vietnamese cuisine before our guide teaches us a number of great bar games. As I am sitting on the deck typing away the majority of our group is on the front deck fishing for squid, not sure yet if it will work or if our guide is having a laugh with us. We'll find out sooner or later….