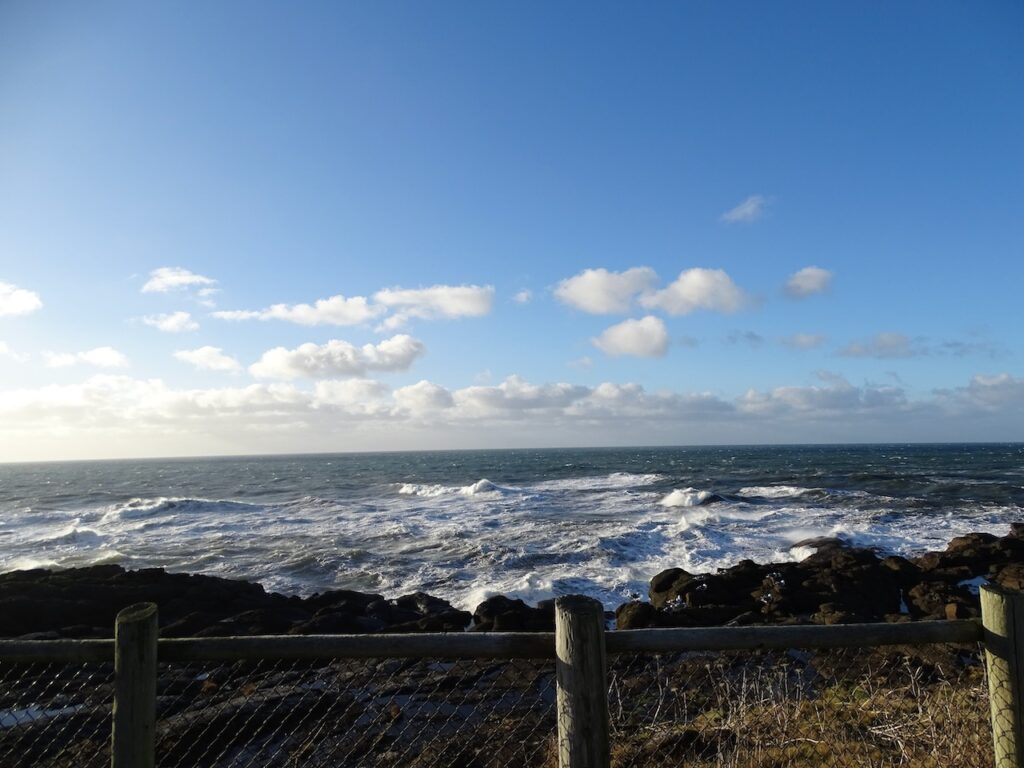 As we wake up at Don's RV camp we are welcomed into today by the sun. A pleasant and warming welcome for todays adventure. I make coffee and get started on making Flipping Bitches for breakfast (wentelteefjes/French Toast), the smoke detector apparently has an issue with my cooking skills and decides to wake up the rest of Long Beach before i can switch it off. The Flipping Bitches taste great together with fresh fruit and we are unhooked and ready to go at 10.
Since TomTom has a strange bug of not finding places we want to go we settle for Lincoln City, a town just north of Newport. Newport is our objective of the day where we want to see if we can catch a whale watching tour.
As soon as we get on the 101 we get our first impression of the views we had missed the night before. We are treated to wonderful and widespread forest and a clear view of the Pacific Ocean and it's beaches. Our road takes us to a long bridge that will take us to Astoria. A little detour, www.rikopreis.nl was part of my 32nd birthday present, more a joke related to my holiday blogging. The other part was a GoPro camera which I started using today as soon as I saw this bridge. As you can see, giving me a GoPro hasn't gotten me from blogging to vlogging I do however want to thank all that contributed once again fro both great gifts. Below I would like to show the video of this impressive bridge including our excited ohs and ahs but you will find out why I didn't later.
We learn we are not only crossing a bridge and therefore water but we are also crossing a state border as sign welcomes us to Oregon. Two countries, second state, we are rocking this!
As we haven't really seen the ocean face to face we take turn west and drive through a small community almost straight onto the beach. We are taken in by the power of the Pacific, it's waves coming in from as far as Japan and pounding this Oregon beach throwing drift wood on the sand. We can hear the rumble and see the splatter reflecting the sunlight casting even more beauty on this perfect day. We stroll the beach a bit take our tourist "jump photo"  and continue to find out what other beauty the Oregon Coast has to offer.
Since most groceries had been finished we made a necessary stop at Fred Meyer to make sure we can eat, sleep and have breakfast anywhere we want. Loaded up with fresh Starbucks and donuts we roll out of the parking lot. The hours that follow are filled with more ohs and ahs as we continue south before getting to Newport around four.
I haven't got a clue to what a typical west coast fishing town looks like but I would guess Newport is one. We arrive at the tourist trap part of town where our whalewatchsupplier should be located, we find, we inquire and we are disappointed. Not the right time of season, the whales are at least six miles out of the coast and the water is to choppy. To compensate this disappointment we spend time at the dock taking in the large group of seals that are almost permanent habitants of the port. Most likely because they are get free food for which in return they entertain tourists and they're good at it.
In stead of driving, searching, parking and hooking up int the dark we try to find a park before the sun goes down. After a miss at the first park – no RV's, which is a first since most of the times we find large signs saying; NO TENTS – we feel our is goal unlikely to be accomplished. Our luck turns just a mile down the road where we find Seal Rock RV Cove and it gets better as they have a spot available with oceanview. With a cold beer we see the sun set over the Pacific Ocean and use the limited wifi to upload this text and no video or photo. Believe us, it's breathtaking beautiful and w'll show you at the wifi. 
Ok, just managed to upload this one