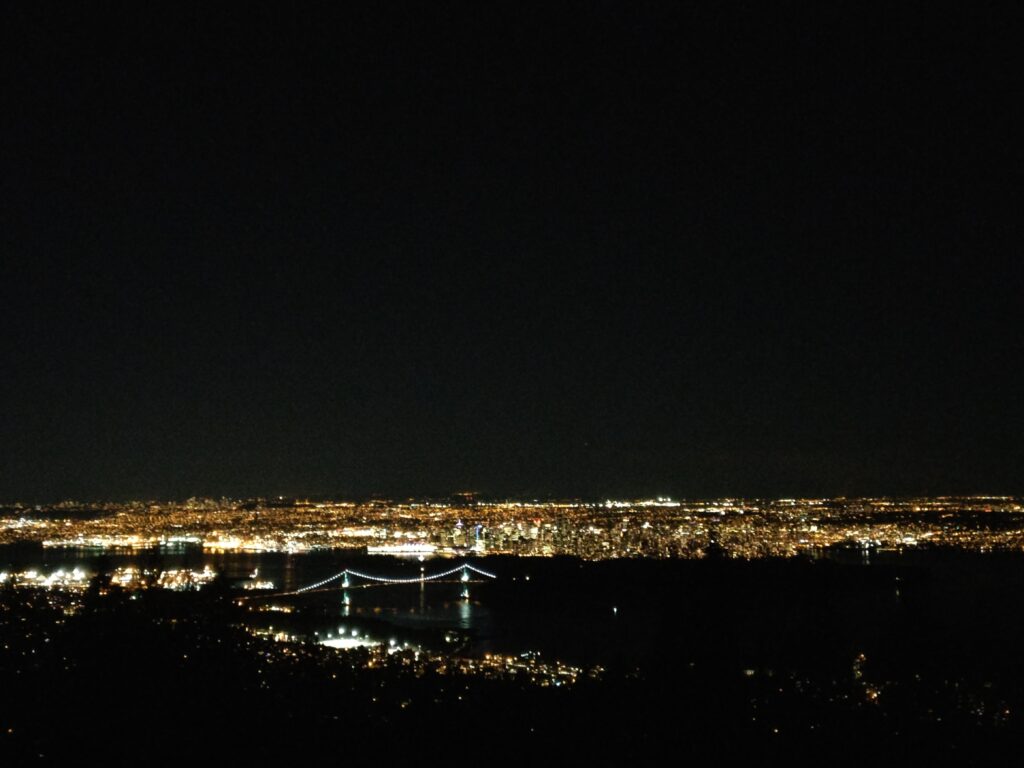 The 22nd day indeed, does it never stop? Unfortunately it does and it will. But not before we have hit the slopes of Cypress. Just north of Vancouver and no more than an hour drive from the house there is a very impressive ski resort. I drive Kate to school and go back for breakfast before we drive out. We set out with the sun shining down on us but see clouds in the distance and as soon as we drive on to Cypress Bowl Road the clouds thicken and we barely see anything. Just a minute later we get above the clouds and only see the sun and an endless blue sky. The advantage of skiing on a weekday is that you can drive almost up to the lift and get passes and rent the required gear.
Although Bob was interested in getting on a snowboard for the first time we figured we would get more out of the day being on skies. No line up at the lift just fresh snow and sun, not sure if I mentioned that it was blue skies and sunshine. We are kings and queens of the slopes and slide down with ease. The local mountains over a scenery which cannot be found in Europe or anywhere else where I have skied. Standing on top of the mountain you can see the high risers over Vancouver City, snow covered mountain tops including Mount Baker and most impressive the Pacific Ocean. Even more beautiful on this day with blue skies and sunshine.
After numerous runs we find it time to reward ourselves as we notice all other skiers are done with lunch so we go to the restaurant where it is nice and quiet. The restaurant is decorated with different memorabilia reminding us of the 2010 winter olympics. We enjoy burgers and a beer and set our for more skiing, as the sun is slowly going down behind the mountains the temperature starts to drop but nevertheless we do some more runs. Our reward for withstanding the cold nature treats us to a stunning sunset over the pacific on one side and an almost full moon on the other. Below the moon the sky changes colour from blue to deep purple and all 50 shades in between.
I take a picture whilst at the risk of losing my fingers in the by now blistering windchill. We do our final descend and find warmth in a local brewed bear before returning our skies and driving out. We make a stop on the way down to take another spectacular view of the city below with all its lights on.
We have been trying to ignore the fact that today is our last day together and that tomorrow we fly back to Amsterdam. We are very lucky people to be able to travel all this way and be welcomed as family and feel home. We cannot thank all our friends here enough for making this trip an unforgettable experience. Thank you all, you've been awesome and we'll be back!