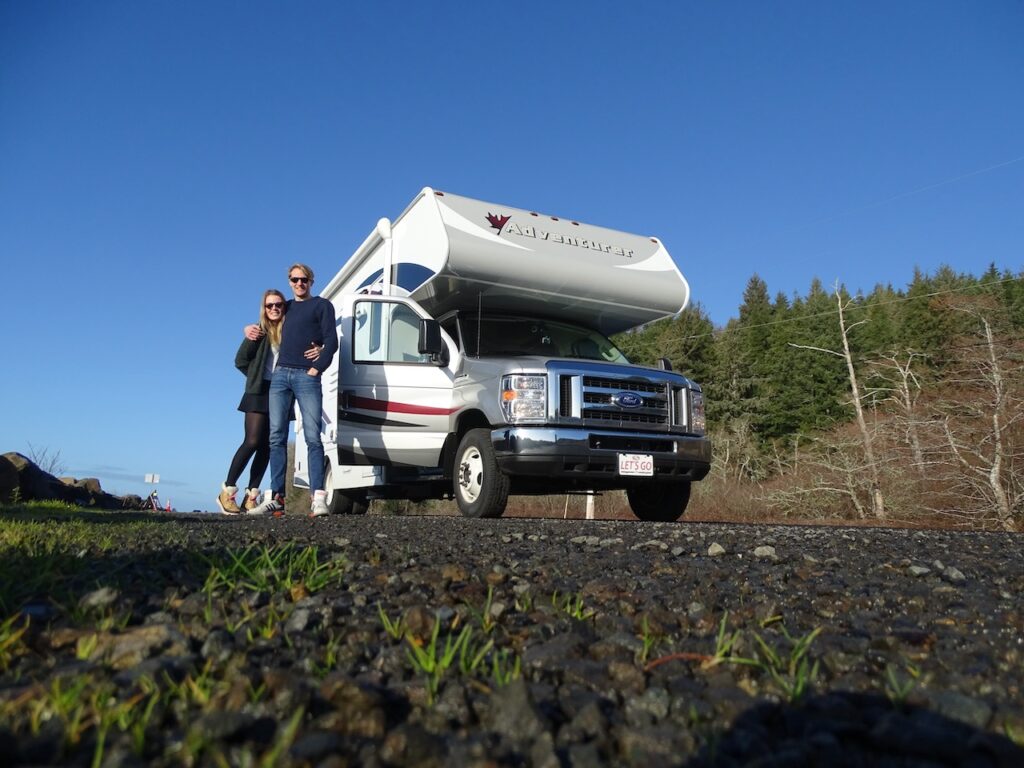 USA today, we are starting the second leg of our adventure. After morning coffee and breakfast we head down to Fraserway RV to collect our home on wheels for the next 12 days. As the entire lot is filled with motorhomes we find we are a rear bread to go out "camping" this time of year. The office is officially closed but we are met by Carmen who takes care of the paperwork and takes us in and around our C-medium motorhome.  Medium is a 7,5 metres long, 3,5 metres high and 2,5 metre wide motorhome, powered by a ford V8 engine. Insulated for all seasons and beds for 5. A fully equipped kitchen, bathroom and fixed double bed. We both had less comfort in our rooms during college.
Once all is explained about the fresh water, grey water, generator and more we set out for our first short ride back to the Fields to get our luggage. We load up have another coffee and hit the road. It only takes 15 minuted to reach the border, another 30 minutes waiting in line and barely two to get the "you're good to go" from customs before we drive into the United States of America.  We switch from Canadian to US dollars, from Kilometers to Miles, from litres to gallons and from large to XXLarge. We drive down the number 5 highway in the direction of Seattle. To complete our home on wheels we stop at a shopping court for groceries and decide to get a pre paid SIM card to have data and be able to find the best campgrounds on the go.
With some grande Starbucks in the cupholders our journey continues. Using good old google we find that previously promising campsites are either closed during winter or have received poor reviews. Our new objective is Port Susan Camping club and as we get of the highway the sun has set and we find our expected site for the night. The message at the gate is clear, this club is only for members and since we are not we cannot use the facility. Having left the highway we have also lost cell phone connection and decide to wonder further south and see what the coast will offer us. Driving our motorhome in the dark through the trees on curvy roads makes that I for once am driving below the maximum speed. I realise this once more when I see a rather long string of headlights in the side mirror. Not much further down the road a deputy sherif is in the middel of the road ready to pull us over. Luckily for us he was just there to direct the string of course behind us to a parking lot for a local fair and we can drive on without the halve the county following us.
We reach Everett and cellphone signals reach us again, Google helps us find a more promising RV park just 30 minutes down the road in beautiful Bothell, who knows it not. Once we arrive at Lake Pleasant RV park we find the office closed. Another visitor directs us to "the board" where we find a notice with the available spots for the night and a from we must fill out and put in a mailbox. We are to be at the office the following morning before 10 AM to complete the payment. We learn that there are "back in" and "pull through" lots and decide to go for number 57, a pull through.
All day we had the feeling we were king of the road in our medium motorhome, driving around the park makes us feel at home. Not because we fit in, because at home we drive a Smart car and have to be careful not be overlooked. The entire park is filled with ginormous fifthwheelers and even ginormouser motorhomes. Over our first dinner on wheels we decide they must be compensating for something….